Air travel in 2014 might not be quite as glamorous as it was in the 1960s, when aeroplanes had bars and stewardesses looked like movie stars, but if you're a celebrity flying first class on a transatlantic long-haul, it at least comes slightly closer.
Jet set style isn't about wearing sweatpants and no makeup, although it must be said, even the fashionistas of the air will change into something more comfortable to relax as they fly. But it's about always looking fabulous, even when you've taken the red-eye special from LAX to London Heathrow and not letting your style standards slip for a second. It also applies if you're not actually flying anywhere – frankly, there's no excuse for sweatpants at any time. We encourage you to embrace chic every hour of the day!
Lots of celebrities are renowned for their jet set style, classy airport arrival outfits abound in the Hollywood A-list. Charlize Theron, Rosie Huntingdon-Whitely, Miranda Kerr, Victoria Beckham and Eva Mendes are aways impeccable and can always be found on fashion pages no matter how long they've been in the air; while Lady Gaga is always eccentric but entertaining in her wild creations. We can't imagine sitting in any of her costumes for ten minutes, let alone ten hours!
If you're planning a getaway to somewhere tropical (or just like to look like you are), some key pieces for adding some jet set style into your travelling wardrobe:
Firstly, some simply but elegantly cut clothes. When travelling, it's best to pack a capsule wardrobe. We love this graphic! 
Your luggage
A-list luggage. Louis Vuitton or MCM would do just perfectly.
Keeping yourself warm and comfy
Designer knitwear for warmth and comfort, paired with a perfectly cut and tailored pair of trousers will make you feel as gorgeous as Miranda Kerr:

Image source
The shades
A huge pair of designer or vintage sunglasses will do the trick to hide your tired eyes from any lurking paparazzi (or that pesky sun after an all-night flight):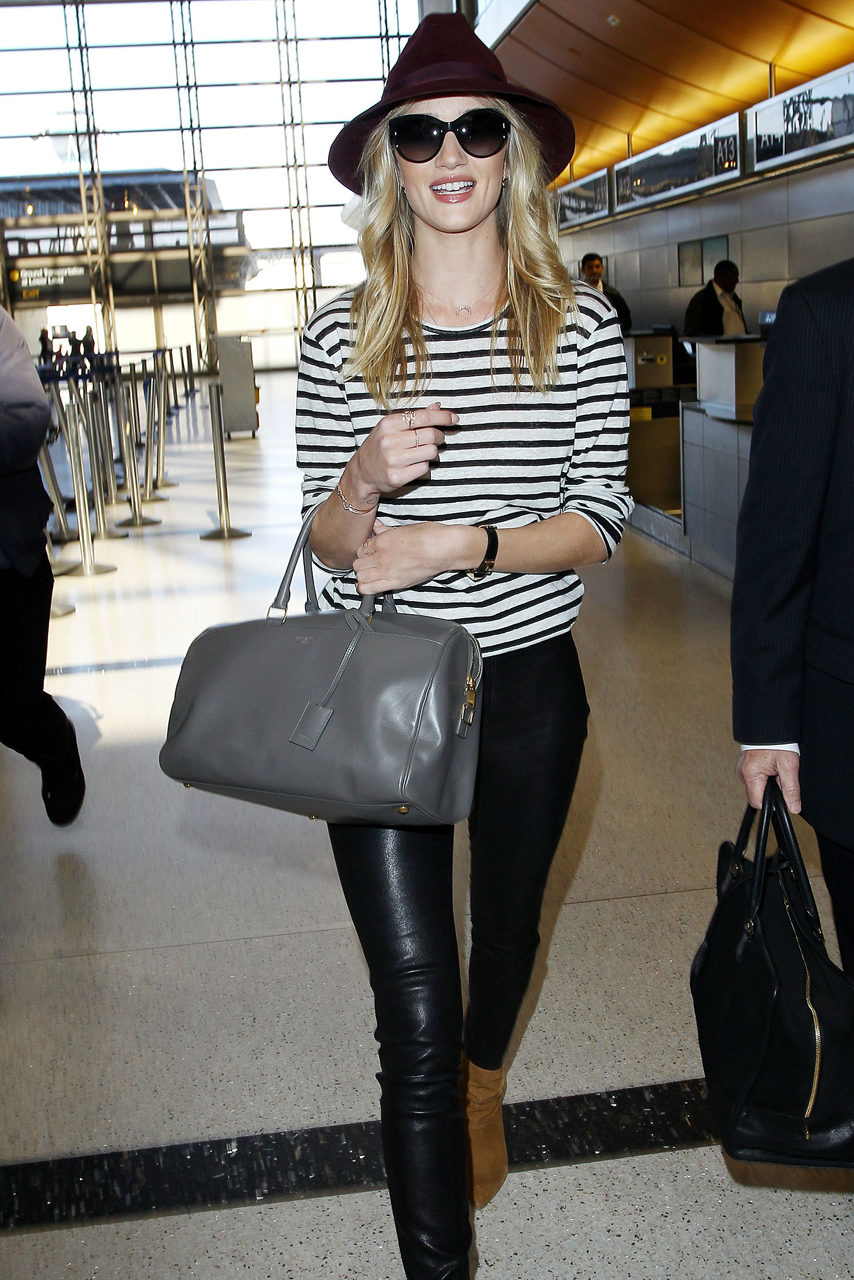 Only for the brave ones: high heels
If you want to stride purposefully through the airport, slip on some incredibly high heels. It might only work if you're Victoria Beckham (maybe keep a pair of flats in your carry-on):
A touch of elegance
Pearls, of course. They go with every possible kind of jet set outfit. You could perhaps imitate Lady Gaga's arrival outfit at Seoul Airport, South Korea, where she sported a pearl mask… or you could go for an elegant pearl necklace like VB again. A lot of leather trousers on celebrities, it seems.
And don't forget your skin
Hydrating beauty products are non-negotiable, however long you fly. Nothing sucks the moisture out of your skin like aircraft airconditioning! We recommend not applying a full face of makeup before a long flight, instead, moisturise thoroughly and pack an Evian facial mist to wake your face up before leaving the plane.
Elizabeth Arden 8 Hour Cream is also an essential! Use it as hand cream, face cream, lip balm and for soothing chapped elbows and feet and more, saving lots of valuable space in your luggage. It's been used by models and actresses for decades and shows no sign of ever going out of style.
What are your travel essentials for staying chic in mid-air?